Description
The main difference between this high-end vertical shade (or blinds) system and other company's vertical shade is the quality of the material and how it was constructed. You may have seen other websites selling similar vertical shades (some call it blinds) with sheers and wonder what makes this vertical shade stand out. Well, here are a few highlights:
1) Please click through the photos on top of the page to see the quality of the product for yourself. These are real photos taken from this product installed on real windows, not CGI computer tricks.
2) The differences compared to the competitions are obvious: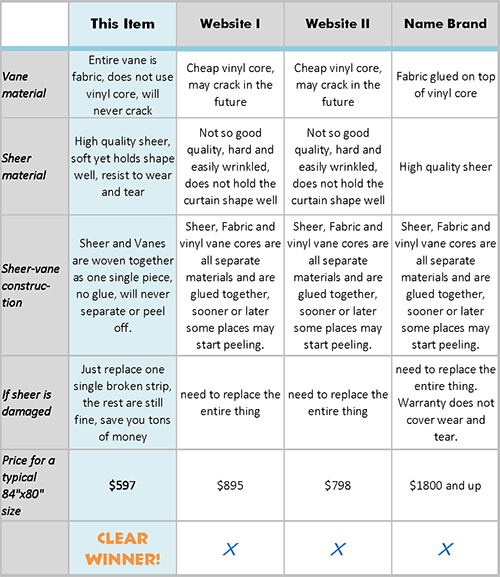 3) The price is also the best! Usually you can only get a mediocre product for such low price; but you end up getting the top of line quality - same or better than the name brand. This product comes directly from the manufacturer who makes the top quality fabric. There is no middle man, no fancy physical stores, no heavy advertisement cost, and that's why the price can be so low.
With this vertical shade, you will get both drapes and sheer on the same product, nearly cutting your window treatment budget in half. The shape is great for sliding doors, patio doors, large windows, and office windows. Its simple, crisp, and streamline look makes it a perfect fit for any contemporary home. Yet the fabric and sheer adds plenty of elegant and charm, making it welcoming in traditional settings.
The product comes with all the rails and mounting hardware. Installation is very easy - most people can set it up in less than half an hour. Once it is installed, you may push the vanes to either side for complete opening, or you can turn the vanes to an angle to control how much light comes through. The high quality fabric vanes block about 60-90% of the light depending on the color - the darker the color, the more light will be blocked. The superior quality fabric also makes for better sound and heat insulation so you will see a lower cost on your utility bills.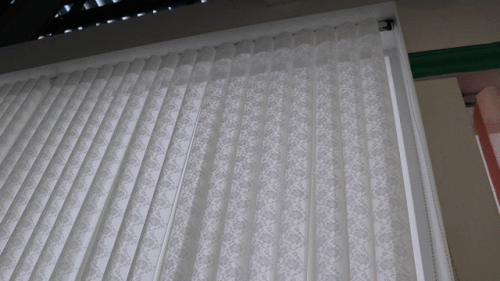 The depth of the vanes is about 5", and the sheer between the vanes is maximum at 6.5" wide. The vanes and sheer are jointed as one single piece. Vanes are connected together at top of the shade but not at the bottom or the side, and so if one strip of vane-sheer gets dirty or damaged, you may just remove the strip for washing (the vane-sheer fabric can be hand or machine washed) or just replace it. There is no need to replace the entire shade. This feature will definitely save you a lot of money in the future.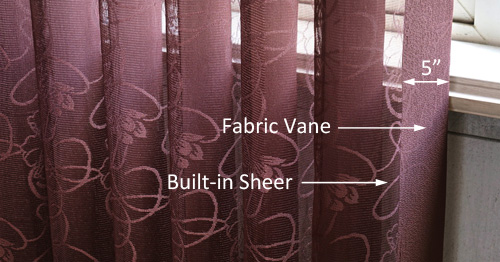 How To Choose Options
Design Series:
Choose fabrics/sheers that are either plain or with different design/patterns. Move your mouse over the swatches to view a larger photo. Click on the swatch to select.
Color:
Select the fabric color for the chosen design series. Fabrics usually look much better in real life than what you see on the screen. This is because photos can not capture all the fine details of fabric. So if you like what you see on our website, you will definitely love what you see when they arrive. We have made every effort to ensure the pictures on our website reflect the true color of the fabric. However, every screen handles color a bit differently, so chances are the color you see on your screen will be slightly different than viewing from a different screen. This isn't much of an issue for most people, but if you have any concerns, you can order fabric swatches before ordering window treatments.
Multi Color:
The entire shade can be made with same kind of fabric or a combination of two or more different fabrics arranged in a pattern. If you like this option, after submitting the order, please let us know how you would like to arrange the different color patterns. The graph below is a reference. The multi color option will cost a little bit more than the single color option.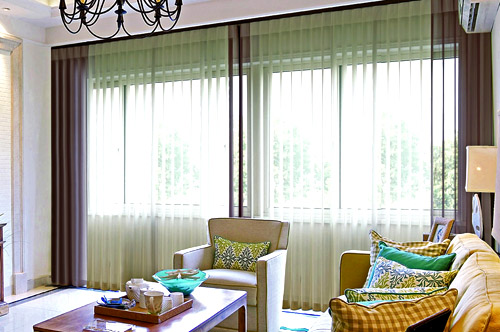 Width:
Select the width of your window covering. Click here to learn how to measure. Although this article goes over how to measure the drapery panel sets, it is very similar to vertical shades, and you may use it as a good reference. The width value normally represents the width of the rail (track) from end to end. Due to the size restriction from the shipping company, the longest rail we can shipped is 110" (2.8m). For measurements wider than that, we suggest installing the entire width in several sections where each section may have its own control cord or wand. We will contact you to discuss how the sections will be arranged.
Height:
The height is measured from the top of the rail to the bottom of the fabric. The top of the rail to the top of the fabric is about 2.3" (6cm), which is included in the height measurement.
Mount:
Shades can be mounted inside or outside of window/door frame. For inside mount, we will deduct 0.5 inches from your width measurement to allow clearance for installation. Please do not deduct it yourself. If the inside mount requires a measurement to be accurate within a fraction of an inch, please provide this value in the "Order Instructions" below.
Bracket:
Please specify what kind of brackets you need.
Stack:
Vanes can be opened from the center (split) or one-way-drawn to the left/right. If you have a wide window, we recommend center split to ensure smooth operation.
Manual or Motorized:
Manual shade is controlled by beaded loop cord (chain) or wand. Want to upgrade your shade to a motorized one and operate by simply pushing a button? Or want to add smart home functionality? There is an added cost to motorized option.
Manual Control Location:
Please specify where you want the beaded loop cord or wand located.
Smart Home Control (for Motorized):
You may control and program motorized shades by cell phone, or by voice via Amazon Echo and Google Home. Please call us to add this option.
Order Instructions:
Let us know if you have any special requests for your order.
Quantity:
If you have multiple windows and desire identical window treatments (identical design, fabric, and size), you may select multiple quantities. If your windows are not completely identical, it is best to make a separate order for each window instead.
Cart/Checkout:
You don't need to enter your credit card number or other payment information when submitting an order online. So go ahead and place your order. You'll still have time to change or cancel it! We will contact you later to verify measurements and other information to ensure accuracy before we ask for your payment. Your information will be secure and strictly protected.
Additional Details
SKU:

YRS-VERSHA

UPC: